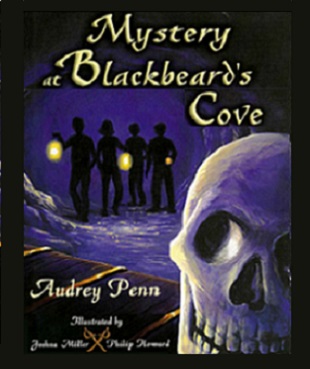 Set on Ocracoke Island on the Outer Banks of North Carolina, the approaching Halloween festivities find Billy, Daniel, Stefanie, and Mark exhausted from their trip to sea to give their eccentric friend Mrs. McNemmish the pirate burial on which she insisted.
But now they are trapped in a tunnel, locked in by Zeek, the local scoundrel and direct descendent of Israel Hands (Blackbeard's first mate), who is racing against them to find the hidden treasure.
This rollicking tale magically combines this unruly group of youngsters, Blackbeard's ghost, secret tunnels, skeletons, hidden treasure, a very mysterious inheritance, the Bermuda Triangle, the Underground Railroad, and a hurricane hitting the Outer Banks in a page-turning delight, full of mystery, laughs, suspense and adventure.