Frequently Asked Question
1. How old were you when you started writing?
I was in the fourth grade when I began keeping journals. It was one of these journals that I rewrote as an adult that became my first children's book Happy Apple Told Me
2. Did you always want to be a writer?
I always loved to write, but I wanted to be on the stage as either an actress or a ballerina. I got to do both.
3. What's your favorite part about being an author?
I love the fact that I get to work with kids. A lot of times, I get my ideas from talking to children when I visit schools. I try out all of my books on kids before they become published. But I also love to edit and rewrite. After the real work is done and the story is written, I love to go over it a hundred times to make sure every word is just the perfect word for the situation.
4. Do you turn your children into characters?
I turn everyone I know and meet into characters. There's a little bit of everyone I've met in all of my stories, just not all at the same time.
5. Why do you write about animals?
Everyone can identify with an animal. I never have to worry about prejudice or hurting someone's feelings if I use an animal instead of a person. And I love the way animals treat their children and how clever they can be. I've always been surrounded by pets who think I'm their pet.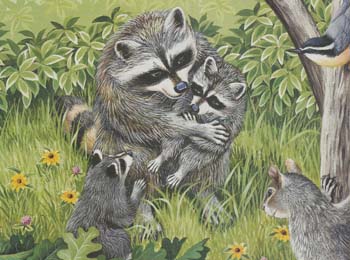 6. Why did you stop dancing?
I became very ill when I was in my upper twenties and had to stop dancing. I wanted to continue being creative and had already published one children's book. I spent several years learning my craft through trial and error and took a correspondence course for writing Children's Literature from a college in Connecticut. I eventually came up with a style all my own.
7. Do your children write?
Yes. All three of my children are extremely artistic and are excellent writers.
8. Are you ever going to retire?
I can't. I have too many ideas that need to be written down. Besides, I can't imagine a day without writing.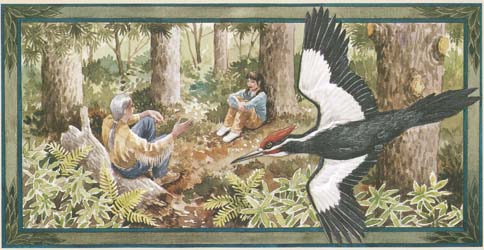 9. Do you draw your own pictures?
No. I wish I could, but my best work is not good enough to be put in a book. I have wonderful artists who excel at their job.
10. Why did you write The Kissing Hand?
I actually saw a mother raccoon kiss the palm of her cub, and then the cub put the kiss on his face.
When my daughter was afraid to go to kindergarten, we tried the mommy raccoon's kiss in the hand and it worked. My daughter could put my kiss on her face any time she wanted to.